3.4 » Erik Carlsson

This text is part of Fönstret #3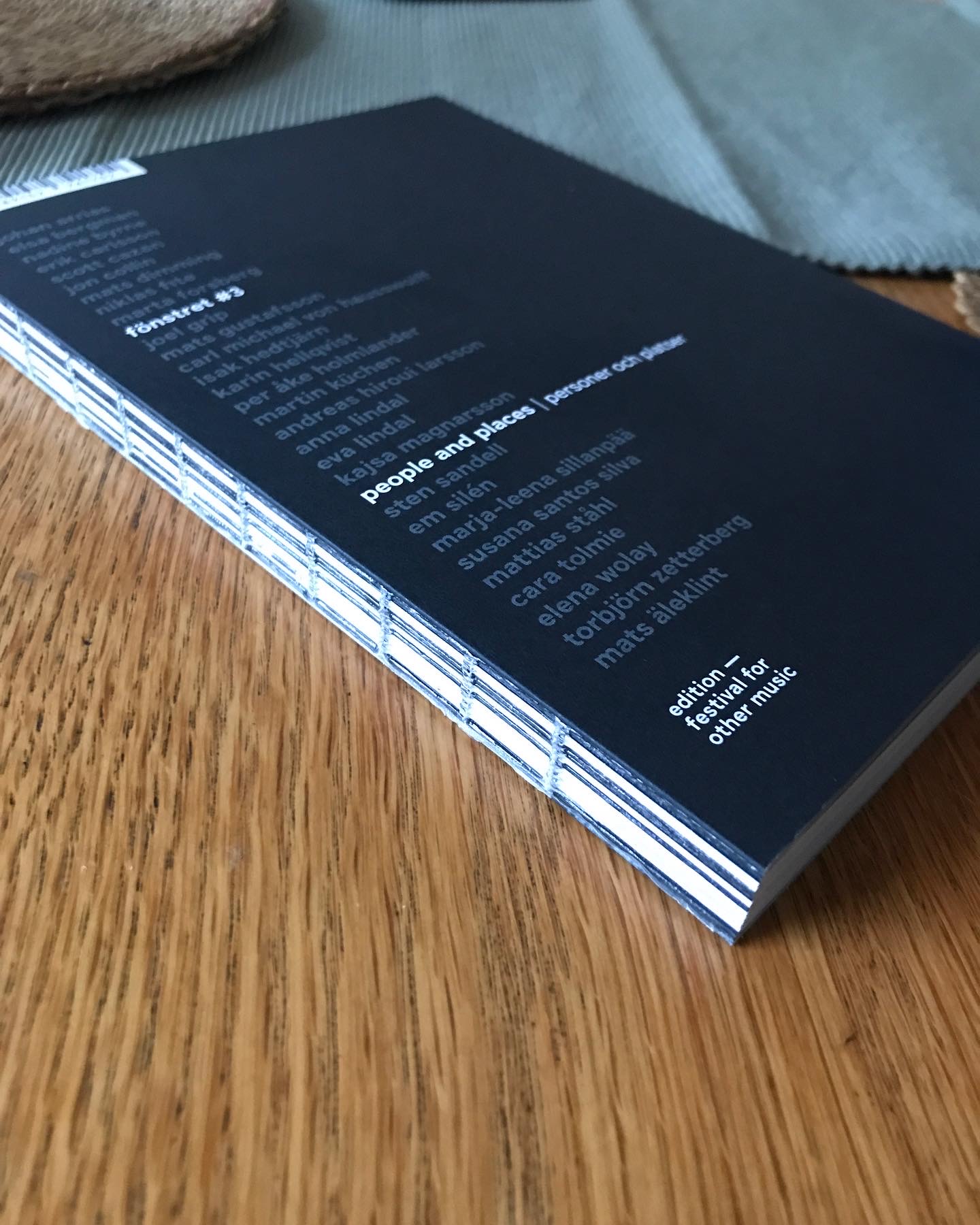 Book sewn with open spine. 170 x 239mm. 192pp. 1+1 Pantone 546C, 120 gsm offset paper inside, 300 gsm offset paper covers.
ISBN: 978-91-527-4170-2
165 SEK + shipping
6% VAT will be added for shipping addresses in Sweden and all other EU countries. 0% tax for all shipments outside the EU.
The Swamp

First semester of high school. Five subjects: mechanical workshop, welding and gas cutting, Swedish, English and sport.
On with the overalls and knuckle down. For two years we would have to put up with each other, those of us who had failed in different primary schools around Lerum municipality.
My father had taken the same path. In his time it was called the vocational school, and after undergoing two years it almost guaranteed you a job in the shipbuilding industry, which in my father's time, before the shipbuilding crisis in the late 1960s, was a secure job where you could stay until retirement.
Of course, Dad thought it was a good idea to start on the engineering line, my friends who grew up with me on "the swamp" chose between Vehicle Building and Workshop, and my grades made clear which it would be for me. It would be workshop for Carlsson.
Damn how I hated it. Mortally dangerous classmates. None of us knew when we would next get a hammer in the back, our heads pounded with an anvil or
a welding flame in the backside. It was everyone against everyone else and some kind of competition as to who could be the worst. As luck would have it, I had a foul temperament, which resulted in setting some physical boundaries that meant I was soon left in peace from these anarchist penal games.
On Fridays, Swedish was in the schedule. Initially my classmates hated it. Swedish? So damn stupid. Why?
I remember that we sat in the hall before Carsten — as the teacher was called — came in. "Carsten — what a fuckin gay name!" Carsten was tall and lanky,had an incredibly well-groomed hairstyle and velvety skin, so smooth and freshly shaved that we suspected he was shaving and moisturising right before each lesson. He walked like a woman and spoke in a fine deep voice. I remember my first thought was: "He will be lynched and eaten alive in the first lesson."
Carsten brings out the thickest book I have ever seen and begins to read aloud. The class falls silent and we all start listening intensely. The following lessons continue in the same way — a kind of storytelling session for teenagers. And we longed to hear Carsten read. Everyone sat quietly and listened. After the lessons we pretended that nothing had happened, we were ashamed of our pleasure in listening to Carsten's fine deep voice.
A few weeks into the semester, after reading aloud for half the lesson, Carsten announces that now it is Mikael's turn to read. Of all of us, Mikael is probably the one with the best self-esteem and self-confidence. Mikael reads one or two pages then it's the next person's turn and so it continues. I remember that Fredrik, who came somewhere in the middle of the reading circle, could not speak clearly. He had not yet mastered the sound of the letter R; we were surprised, Fredrik had never spoken before and now we knew why.
When Fredrik began to stumble in the text, Carsten's presence grew, he em- braced us spiritually in some strange way. No one ever harassed Fredrik for his speech deviation, either during class or outside of it. Now we each had to borrow a copy of
the book we read Utvandrarna, invandrarna, nybyggarna och det sista brevet till Sverige (The Emigrants, Unto a Good Land, The Settlers and The Last Letter Home).
The topics of conversation during breaktimes ranged from the easiest way to steal a car and where to buy the cheapest hashish to how far through the book you had read and what would actually happen to Karl Oskar Nilsson.
The swamp was Lerum's high-rise area built in 1964, sandwiched between the villa houses. And when the swamp's first litter grew old enough to start school, so began an intense debate in the municipality about where these children should go to school. The obvious choice for the parents of the swamp was the school located 500 metres away, which meant only crossing one street. This would mean that the "swamp children" would mix with the Aspenäs villa children. Aspenäs housing association was strongly opposed to this and informed the municipality that this would be bad for both parties, and that Knappekulla school 3 km away on the other side of the town centre might well be better for us — at that school there would be more like-minded children for the swamp children to play with. After a year of strikes and a visit by Västnytt from the TV channel TV2, the municipality of Lerum had to bow to the pressure and apply the proximity principle, which was a nationally accepted standard.
Back home in the swamp, it was not possible to talk about Karl Oskar Nilsson. There were no bookworms living on the swamp. We were fully occupied with the task of managing ourselves. A sort of navigation around tricky adults: today we can't go over to Dennis' as his mother's ex had trashed the apartment for the third time, Johny's father had just begun a new period of drinking and Magnus' mother had slept with no-arse-Gert five doors down, so there wouldn't work either. We mostly spent our time outdoors because it was calmer. And what happened in Carsten's lessons and the intense desire to read became something to keep to yourself. But when in Carsten's lessons, those who wanted to, were able to blossom in full.
I loved the language, the sound, the rhythm and somewhere, the idea grew that it was possible to do something other than turn something on a lathe, weld, drink and sleep with your neighbour. I didn't have a clue what that was going to be, but really, it was all the same shit.
Thank you Carsten.



(Translation: Jasmine Hinks)



Träsket

Första terminen på gymnasiet. Fem ämnen: mekanisk verkstad, svetsning och gasskärning, svenska, engelska och idrott.
Påmed blåstället och plugga. I två år skulle vi stå ut med varandra, vi som misslyckats i olika grundskolor runt om iLerums kommun. Min pappa hade gått samma linje. På hans tid hette det yrkesskolan, efter genomgångna två år var man nästintill garanterad ett jobb inom varvsindustrin som på pappas tid innan varvskrisen i slutet av 1960-talet var en tryggarbetsplats där man kunde stanna tills pension.
Pappa tyckte givetvis att det var en bra ide att börja på verkstadsteknisklinje, mina vänner som växte upp med mig på träsket valde mellan Bygg Fordon och Verkstad, och mina betyg talade sitttydliga språk. Det skulle bli "verksta" för Carlsson.
Fy fan vad jag hatade det. Fullkomligt livsfarliga klasskamrateringen av oss visste när en skulle få en hammare i ryggen, sitt huvud dunkat i ett städ eller en svetslåga i röven. Det varalla mot alla och en slags tävling om vem som va värst. Som tur var hade jag ett sjuhelsikes temperament vilketresulterade i fysiska gränssättningar som gjorde att jag snart fick vara ifred från dessa anarkistiska penalismlekar.
Påfredagen stod det svenska på Schemat. Mina klasskamrater hatade initialt eventet. Svenska så jäkla dumt, varför då? Jagminns att vi satt i salen innan Carsten som läraren hette kom in. "Carsten — vilket jävla bögnamn!". Carsten var lång ochgänglig, hade en oerhört väl om- händertagen frisyr och en hud som sammet, så len och nyrakad att vi misstänkte att hanrakade och smorde sig precis innan varje lektion. Han gick som en kvinna och talade med djup vän röst. Jag minns att minförsta tanke va; "han kommer bli lynchad och uppäten på en lektion".
Carsten tar fram den tjockaste bok jag någonsin settoch börjar läsa högt. Klas- sen tystnar och vi börjar alla lyssna intensivt. De följande lektionerna fortsätter på sammasätt en slags sagostund för tonåringar. Vad vi längtade till att höra Carsten läsa, alla satt tyst och lyssnade. Efterlektionerna låtsades vi som att inget hänt, vi skämdes över vår njutning av att lyssna på Carstens väna djupa stämma.
Några veckor in i terminen efter att ha läst högt en halv lektion meddelar Carsten att nu är det Mikaels tur att läsa. Mikael är nog den av oss med bäst självkänsla och självförtroende. Mikael läser en eller två sidor sen är det nästas tur ochså fortsätter det. Jag minns att Fredrik som kom någon- stans i mitten av läsecirkeln inte kunde prata rent, han hade ännuinte satt ljudandet av bokstaven R, vi blev förvånade, Fredrik hade aldrig pratat innan och nu visste vi varför.
När Fredrik började staka sig fram i texten växte Carstens närvaro, han omfamnade oss själsligen på något märkligt sätt. Detblev aldrig någon som trakasserade Fredrik för hans talavvikelse varken under lektion eller utanför. Nu fick vi lånavarsitt exemplar av boken vi läste Utvandrarna, invandrarna, nybyggarna och det sista brevet till Sverige.
Samtalsämnenapå rasterna växlade från hur man enklast tjuvkopplade en bil eller vart man köpte billigast hasch till hur långt man lästi boken och vad som egentligen skulle ske med Karl Oskar Nilsson. Träsket var Lerums höghusområde byggt 1964 insprängtmellan villorna. Och när träskets första barnkull blev stora nog att börja i skolan startade en intensiv debatt i kommunenvart dessa barn skulle gå i skolan. Det självklara valet för föräldrarna på träsket var skolan som låg 500 meter frånområdet med endast en gata att korsa. Det skulle betyda att träsketbarn blandades med Aspenäs villabarn.
Aspenäsvillaförening var strakt emot och meddelade kommunen att detta vore dåligt för båda parter, men att knappekullaskolan 3 kmbort på andra sidan centrum kunde vara en bättre väg för oss att gå och att på den skolan skulle det finnas merlikasinnade barn för träsketbarnen att leka med. Efter ett år av strejk och besök av Västnytt från TV2 fick även Lerumskommun foga sig och tillämpa närhetsprincipen som var nationellt beslutad.
Väl hemma på Träsket var det inte möjligt attprata om Karl Oskar Nilsson. Det var ju inga "läshuvuden" direkt som bodde på träsket. Vi var fullt upptagna av att klaraoss själva. Något sorts navigerande runt knepiga vuxna: idag kan vi inte vara hos Dennis hans morsas ex hade trashatlägen- heten för tredje gången, Johnys farsa hade precis påbörjat en ny period av supande och Magnus morsa hade legat med "Gert utan stjärt" fem portar bort så där var det inte läge. Vi va mest ute för där var det lugnast. Och det som hände på Carstens lektioner och den intensiva läslusten blev något att hålla för sig själv. Men väl på Carstens lektioner fick densom ville blomma för fullt.
Jag älskade språket ljudet rytmen och någonstans där grodde tanken om att man kunde göra något annat än att svarva, svetsa, supa och ligga med grannen. Vad hade jag ingen aning om, och det är egentligen skit samma.
Tack Carsten.