3.27 » Cara Tolmie

This text is part of Fönstret #3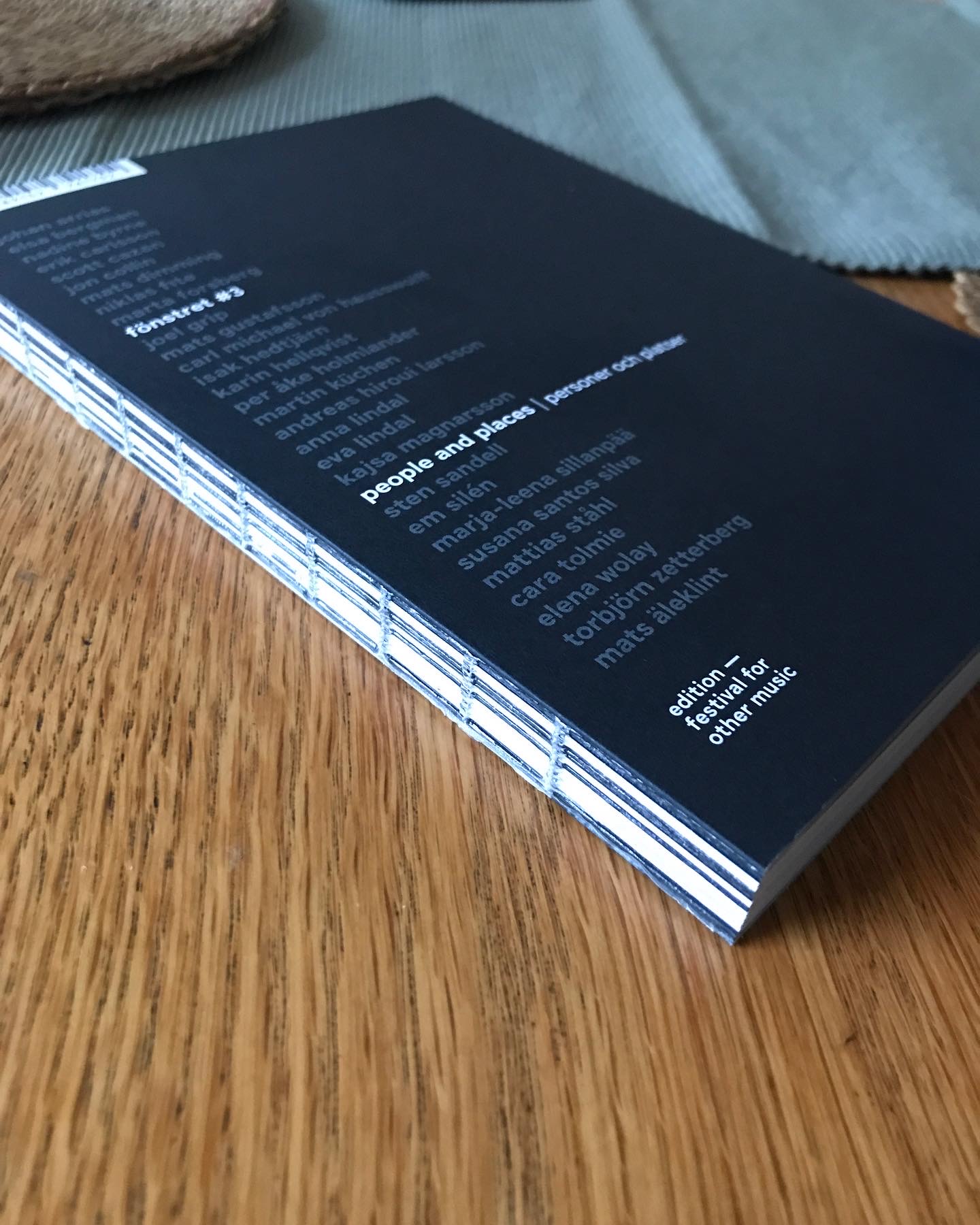 Book sewn with open spine. 170 x 239mm. 192pp. 1+1 Pantone 546C, 120 gsm offset paper inside, 300 gsm offset paper covers.
ISBN: 978-91-527-4170-2
165 SEK + shipping
6% VAT will be added for shipping addresses in Sweden and all other EU countries. 0% tax for all shipments outside the EU.
Just Can't Get Enough

I am one of those despised people who takes karaoke too seriously. I used to keep a list of possible karaoke songs on my phone, just in case. To this day, I do karaoke alone at home or in my studio. Sometimes I do this because it's the only thing that gets me out of a slump, other times because I just can't help myself. Every time I make a new performance I have to make a concerted effort to stop myself from filling it with karaoke. On this I have failed on a few occasions.
For me it is an addiction, once I start I cannot stop. It's like a plunge pool, binging on sugar or listening to guilty pleasures, just one more episode... I know I am not alone in this, I have witnessed the beast overtake many others throughout my years doing karaoke. In writing the follow- ing account of my early experience with this ritual, I realise that my experience of doing karaoke was probably what forged my ongoing obsession with singing. It is the epitome of a certain thrill that singing in front of an audience can give, all at once masochistic and empowering.
The first time I did karaoke (serious- ly) was at a pub called the Crossland's in Glasgow, around 2007. I had recently been dumped and I was gutted about it. However, I was also steeped in that wild energy that often trails behind heartbreak. In other words, I was wide open to new experi- ences.
I was on the committee of the artist-led gallery Transmission in Glasgow at the time, and at one of our openings I had been chatting to another artist called George Ziffo. George was a shy painter, he had wafty fair hair and a small pencil moustache. I don't remember how we got onto it but the topic of karaoke came up. I was surprised to discover that George was an avid fan and eager to find a bar where he could sing. I immediately piped up and said that I also very much wanted to go to karaoke.
George said he knew a place — Crossland's — a bar in Maryhill made famous by its appearance in the film Trainspotting. If you remember the scene where Begbie throws a thick pint glass over his shoulder from the balcony of a pub and it smashes on a woman's head, that was where George and I went to sing karaoke. George managed to gather a few others that were also keen to come along — all men, all relatively shy and dorky.
I don't remember so many details about that first night other than the two songs that I sang. The first I did solo — Back on the Chain Gang by the Pretenders. It was a song that my dad used to play in the car when we were kids. Somehow it seemed to fit the implied criteria, just the right amount of nostalgic, intergenerational, soft rock with a feel good melody.
As is tradition with an amatuer karaoke performance I only realised half way through the song that it was very difficult to sing, I didn't remember most of the verse and got completely stumped by the bridge. However, despite these misde- meanors I came off stage high. As I edged back into my seat at the table alongside my ill-fitting entourage, I buzzed and sipped on my pint with a ferocious glee in my eyes, my heart beating. I wanted to laugh hysterically and weep all at the same time. I was ripped open and elated.
I felt for the first time a strange and hard to describe sensation that has reeled me in many times in the years since. It's something caught between embarrassment, pleasure, adrenaline, fear and power but perhaps most importantly, a sense of being part of a community. This "community" is complex — it is a force, a sense, an encounter that I don't totally understand. It is not a fixed group of people. It swells and ebbs from song to song. It reaches out of the walls of the pub towards all of those other people who have sung the same songs in other rooms. It is earnest and supportive. This community often makes no sense on paper unless you understand it purely as a shared love of something that you produce together, for one another, completely outside of the regular confines of your daily lives.
After my initial revelation that karaoke was not as easy as it seemed, I sang the second song of the night as a duet with one of the boys from my table — a friendly musician with floppy hair and a wide smile. He suggested Just can't get enough by Depeche Mode which although I wasn't convinced I knew so well I got through with a lot more ease than the previous song. I was even bold enough to attempt a few harmonies on the chorus. It was a truly empowering feeling.
Most of us sang that first night. There was one of the group, I can't remember who exactly, that only ever sang David Bowie songs. He used an imitation Bowie voice to sing that was both endearing and cringeworthy. Lucky, he could also hold a tune so somehow always managed to pull it off. Afterwards, our oddly shaped gang went dancing together. We danced until close, fuelled by euphoria from our night at Crossland's. This first night together was tender, peculiar and revelatory. We were all hooked on the feeling.
After that first night we became a kind of gang with a hidden secret. We were bound together by a special power that the rest of the artists we hung out with wouldn't suspect. We began to meet at Crossland's every week for karaoke. Serious karaoke. We would select and practice our songs at home during the week, excited about discoveries that we knew would please the rest of the group. Occasionally new members would join, thankfully a few other women over the weeks, but in general our group remained small and dedicated.
We began to be known and even accepted by the other regulars at Crossland's. There was one man who was there every week. I cannot remember his name but he always came alone and sat on the end of the bar, wearing the same full denim outfit every time. He was perhaps in his 60s or 70s but had the kind of face that could have aged early through alcohol consumption, he was usually visibly drunk. Every week without fail he would sing the same three songs — Little by Little by Oasis, Ruby by the Kaiser Chiefs and Losing my Religion by REM. After some weeks we all began to greet him as we entered the bar, he would cheer for us as we would cheer for him.
Our assimilation was not something to be taken for granted and we were gratified by our integration into this ritual. My experience of growing up in Glasgow was always imbued by class awareness, heightened by the fact that my father grew up in a working class Glaswegian family and my mother a middle class family in London. I was acutely aware of this dynamic in my daily encounters — from the clothes I wore to the way my accent would shape shift depending on the context. Our group could read as nothing but painfully middle class, there was no getting away from that. We all felt it the minute we walked into that bar on the first night, or at least I know we were all nervous. I'm not totally sure what of, I don't believe any of us thought that Begbie would be waiting in there ready to smash a pint glass over our heads. I suppose we just knew that we would stick out and there was a good chance that our presence may not be welcomed. But over the weeks we integrated successfully. On reflection, I believe that was probably testament to our earnest and serious approach to karaoke. We were not there to laugh at anyone or put anyone down, we were just there to sing with the most heart and dedication that we could, like everyone else.
Some months later the word got out about our little karaoke club. A friend who was an artist and musician got excited and decided to have his birthday gathering at Crossland's karaoke. I was hesitant but supportive. I felt protective of what we had built up there and was worried about how the other regulars that we had built rapport with would react to the bar being flooded with young artists. I remember it being awkward for us in the initiated group. Everyone at the birthday party had a great time and sang a lot, but there was a way they approached their song choices and styles of performance that felt somewhat inflected with irony. Although I would have very much enjoyed and indulged in this if we were doing karaoke together at a house party or in a booth, at Crossland's it made me nervous. I feared that by association our small group's place in this community would be threatened.
And in a way it was, as far as I remember this night marked the beginning of the end of our ritual together. I can't totally remember why, perhaps our personal lives took over or it just faded out. But I also think that our place there shifted after that evening in a way that none of us could quite reconcile or put our finger on afterwards. This was not the end of my encounter with karaoke however, just the end of the start of a fervent new addiction.









Jag är en av dessa föraktade människor som tar karaoke på lite för stort allvar. Jag brukade hålla igång en lista med potentiella karaokesånger på telefonen, bara utifall att. Jag sjunger fortfarande karaoke hemma och i min studio. Ibland gör jag det eftersom det är det enda som får mig att komma ur en tillfällig svacka, ibland bara för att jag inte kan låta bli. Vid varje ny spelning måste jag ta mig samman, och verkligen anstränga mig för att inte fylla den med karaoke. Detta har jag misslyckats med vid ett par tillfällen.
Det är som ett beroende. När jag väl börjat kan jag inte sluta. Det är som en djup, sval pool, som att sockerfrossa eller lyssna på sina guilty pleasures, bara ett avsnitt till... Jag vet att jag inte är ensam i det här. Jag kan vittna om hur otaliga andra tagits i besittning av demonen under mina år med karaoke. I denna redogörelse över mina tidiga erfarenheter av denna ritual inser jag att mina erfarenheter av karaoke troligtvis varit anledningen till min nuvarande besat- thet av att sjunga. Karaoke omfattar den särskilda spänning som uppträdandet inför en publik innebär, på en och samma gång masochistisk som en källa till kraft.
Första gången jag (på allvar) sjöng karaoke var på en pub som heter Crossland's, i Glasgow runt 2007. Jag hade nyligen blivit dumpad och kände mig besviken och förbannad, men samtidigt driven av den vilda energi som kommer ur ett brustet hjärta. Med andra ord var jag vidöppen för nya erfarenheter.
Jag satt i kommittén för det konstnärsdrivna galleriet Transmission i Glasgow på den tiden, och kom på ett vernissage att prata med en konstnärskollega som hette George Ziffo. George var en blyg bildkonstnär med vågigt, ljust hår och en tunn mustasch. Jag kommer inte ihåg hur vi kom in på ämnet, men vi pratade om karaoke. Till min överraskning var George ett stort fan och på jakt efter en bar där man kunde sjunga. Jag svarade omedelbart att jag väldigt gärna ville följa med.
George berättade att han kände till Crossland's, en bar i Maryhill som blivit känd efter att ha figurerat i filmen Trainspotting. Du kanske minns scenen där Begbie kastar ett ölglas över axeln från pubens balkong, och det träffar en kvinna i huvudet? Dit gick jag och George för att sjunga karaoke. George drog ihop ett gäng som gärna ville hänga på – samtliga var män, alla lika blyga och nördiga.
Jag minns inte så mycket från den där första kvällen förutom de två sångerna jag sjöng själv. Den ena solo — Back on the Chain Gang med Pretenders. Min pappa brukade spela den i bilen när vi var små. På nåt sätt kändes det som att den passade in på de underförstådda kriterierna; genera- tionsöverskridande soft rock, med en feelgood-melodi och exakt rätt mängd nostalgi.
Som det brukar vara med amatörka- raoke så upptäckte jag först halvvägs in i sången hur svår den egentligen var. Jag kom inte ihåg större delen av versen, och kom helt av mig vid bryggan. Oavsett motgångarna så var jag som i ett rus när jag klev av scenen. Mitt hjärta bultade hårt och mina ögon glödde av upphetsning när jag slog mig ner på min plats vid bordet tillsammans med mitt missmatchade entourage för att småprata och sippa på min öl. Jag ville skratta hysteriskt och gråta på samma gång. Jag kände mig uppriven och i extas.
Det här var den första gången som jag upplevde den märkvärdiga och svårbeskrivliga känsla som jag känt många gånger sedan dess under de åren som passerat sedan dess. En blandning av genans, njutning, adrenalinkick, rädsla och makt, men kanske viktigast av allt, en komplex känsla av samhörighet; en styrka, ett sinne, ett möte som jag inte kan förklara fullt ut. Gruppen av människor är ett föränderligt flöde. Det ökar och ebbar ut från en sång till en annan. Den sträcker sig utanför pubens väggar till människor i andra rum som har sjungit samma sång. Den är ärlig och stöttande. Gruppsamhörigheten verkar på pappret ologisk om du inte förstår den som en delad kärlek till någonting som ni skapar tillsammans, för varandra, och helt och hållet bortom era dagliga liv och rutiner.
Efter min första insikt om att kara- oke inte var så enkelt som det verkar, sjöng jag kvällens andra sång, en duett med en av grabbarna från mitt bord. En snäll, långhårig musiker med ett brett flin. Han föreslog Just Can't Get Enough av Depeche Mode, vilken jag var övertygad om att jag skulle kunna ta mig igenom lättare än den första sången, trots att jag egentligen inte kunde den särskilt bra. Jag vågade till och med ge mig på lite stämsång i refrängen. Jag kände mig verkligen styrkt.
De flesta av oss sjöng den där första kvällen. En i gänget, exakt vem minns jag inte riktigt, sjöng bara David Bowie. Han härmade Bowies röst när han sjöng, vilket både var charmigt och pinsamt på samma gång. Lyckligtvis kunde han låtarna och kom därför också undan med det. Efteråt gick vårt udda gäng för att dansa. Vi höll igång till stängingsdags, höga på euforin från kvällen på Crossland's. Vår första kväll tillsammans var fin, märklig och en sorts uppenbarelse. Vi hade alla fastnat stenhårt för det här.
Efter den första kvällen blev vi som ett gäng med en hemlighet. En särskild kraft höll oss samman som ingen av konstnärerna vi hängde med kände till. Vi började träffas på Crossland's varje helg för karaoke. Seriös karaoke. Vi valde låtar med omsorg och övade på dem hemma under veckorna, och gjorde upptäckter som vi bara kunde dela med de andra inom gruppen. Då och då tillkom nya medlemmar, lyckligtvis också några fler kvinnor, men på det stora hela förblev gruppen liten och hängiven.
Vi började bli igenkända, och till och med accepterade av Crossland's övriga stammisar. Det fanns en man som kom dit varje vecka. Jag minns inte vad han hette, men han kom alltid ensam och satt i ena änden av baren, alltid klädd i samma denim-kläder. Han kanske var i sextio- eller sjut- tioårsåldern, med ett ansikte som åldrats tidigt på grund av ett högt alkoholintag, och han brukade för det mesta vara märkbart full. Varje vecka, utan undantag, sjöng han samma tre sånger: Oasis Little by Little, Kaiser Chiefs Ruby och Losing my Religion av REM. Efter ett par veckor började vi hälsa på varandra, och han applåderade och hejade på oss lika mycket som vi hejade på honom.
Vår assimilering var inget man kunde ta för givet, och vår rituella integration skänkte en särskild tillfredsställelse. Min erfarenhet av att växa upp i Glasgow genomsyrades av klassmedvetenhet, vilket förstärktes av det faktum att min far kom från Glasgows arbetarklass och min mor från ett medelklasshem i London. Jag var väl medveten om den här dynamiken i mitt dagliga liv — från kläderna jag bar, till hur min accent skiftade beroende på kontexten jag befann mig i. Vårt gäng var oundvikligen medelklass vilket framgick med smärtsam tydlighet. Vi kände av det från sekunden vi klev in i baren den första kvällen, jag visste åtminstone hur nervösa vi alla var. Exakt vad vi var rädda för vet jag inte, jag tror inte att någon av oss förväntade sig att Begbie skulle stå beredd med ett ölglas i högsta hugg, men jag antar att vi bara visste att vi skulle sticka ut, och att vår närvaro inte nödvändigtvis skulle vara välkommen. Men ju längre tiden gick så integrerades vi en liten bit i taget. När jag tänker på det så berodde det antagligen på vår uppriktiga och seriösa inställning till karaoken. Vi hade inte kommit för att skratta åt folk, utan vi var där för att sjunga med lika mycket hjärta och inlevelse som alla andra.
Några månader senare spreds ryktet om vår lilla karaokeklubb. En konstnärsvän och musiker blev intresserad och beslöt sig för att fira sin födelsedag med karaoke på Crossland's. Jag var tveksam men stöttade honom. Jag kände att jag ville beskydda det som vi byggt upp, och oroades över hur de andra stammisarna som vi nu hade en relation till, skulle reagera på att baren skulle översvämmas av unga konstnärer. Jag minns att det upplevdes som olustigt i vår ini- tierade grupp. Alla på födelsedagsfesten hade jättekul och sjöng mycket, men sättet de tog sig an sångerna på, och hur de framförde låtarna kändes ironiskt. Om vi hade sjungit karaoke på en hemmafest eller i ett separat rum så hade jag deltagit på ett helt annat sätt, men det faktum att vi var på Crossland's gjorde mig nervös. Jag var rädd för att vårt lilla gängs position var hotad, genom association.
Och på sätt och vis var det också den här kvällen som markerade början på slutet av vår gemensamma ritual. Jag kommer inte ihåg varför exakt, kanske tog våra personliga liv över eller så bleknade allt bort. Men jag tror också att vår givna plats där, förändrades efter den kvällen på ett sätt som ingen av oss kunde försonas med eller sätta fingret på i efterhand. Hursomhelst var inte detta slutet på min resa med karaoke, utan enbart det sista av inledningsfasen till ett nytt, hett beroende.


(Translation: Magnus Bunnskog)